Containment of a seawater pipe on the N'kossa barge located offshore the Republic of Congo
N'Kossa is a floating production site built on a massive concrete barge, located in shallow water, 60km away from Congo Brazzaville coasts. Its proper operation relies in particular on a 2,32m wide concrete pipe with a metal core which function is to transport seawater, pumped from a depth of 55m, to a buffer tank to be then used for various processes.
Over time, this 2.32m wide concrete pipe with a metal core, has shown signs of weakness and a diagnosis has confirmed the passage of seawater through the concrete, as well as the advanced corrosion of the metal core.
In order to keep this conduit in operation, it was decided to carry out a complete lining of the seawater pipe. To achieve this operation, Freyssinet's intervention for this particularly complex project was as follows:
Application of a waterproofing geomembrane around the existing pipe;
Creation of a reinforced concrete shell over the entire conduit;
Rehabilitation of the bearings: the existing ones are partially demolished and then rebuilt after the shell is on place;
During the temporary phase, temporary bearings take over the load of the pipe;
All this while maintaining the pipe in operation.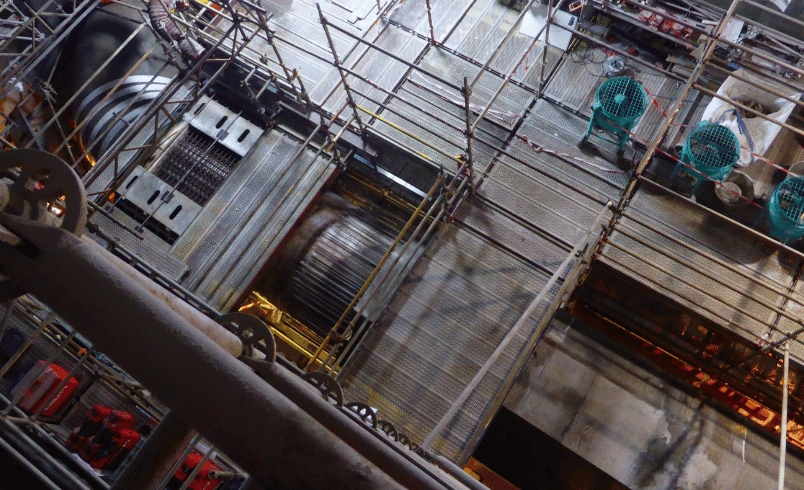 This major project required exceptional planning and logistics to deal with major constraints.
On one hand, constraints specific to an active offshore oil platform, namely ATEX classified zones, supply of materials by sea, restricted space on site, limited authorized people to work on the project, rotation shifts aligned with client requirements: 7 days a week, 12 hours a day with a 2-4 week rotation on the barge.
On the other hand, constraints specific to the position of the pipe at the bottom of the barge, i.e. 16m below the main deck: work in confined space, access to the work area through 80cm wide manholes, hydrometry and temperature of a very high level in the confined enclosure of the site.
Started at the end of October 2021, the project ended on October 31, 2022. A Big Bravo to all the teams involved in this great project.
Learn more about our expertise on waterproofing solutions

Learn more about our expertise on corrosion protection