Bridge and deck construction
Our portfolio of methods
1/
In situ construction
Incremental launching
Cast-in-place cantilever
Construction on scaffolding
2/
Precast segmental erection
Balanced cantilever erection with launching gantry / lifting frames / cranes
Span by span erection with launching gantry / on falsework
Precast girder erection
Full span precast method
3/
Heavy lifting and handling of structures
Heavy lifting: strand lifting, precision jacking
Sliding techniques: autoripage, autofonçage, airpad sliding, lateral sliding
Rotation systems
Special formwork
1946

First development and use by Freyssinet of industrialized methods for bridge erection, for the Luzancy bridge

320+

Number of cable-stayed bridges where Freyssinet has been involved

70+

Number of bridges built in situ by Freyssinet

50+

Number of precast bridge decks erected by Freyssinet
Why choose Freyssinet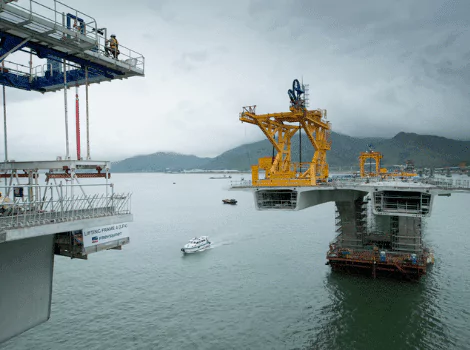 Hundreds of bridge and deck construction projects around the world for over 70 years, small to large-scale.
Including:
Choice of construction method
Optimization of superstructure design and construction method
Design & supply of equipment and temporary structures
Erection of the superstructure, equipment operation, concrete casting, prestressing
Finishing work, including installation of structural fittings
Maintenance and repair services
Proven ability to propose and implement alternative designs and methods to achieve the best possible value at the lowest life cycle cost.
Under the leadership of our Major Project Department for the largest and most complex projects, our specialist supervising teams are able to manage safely the construction project within budget and on time, taking into account all technical and environmental factors.
Bridge and deck construction
A global approach
to bridge construction
Selection of construction method
Structural design of substructure and superstructure
Material quantities and specifications
Review of options for the construction methodology
Assessment of temporary works and special equipment requirements
Phasing of works
Cost estimates for budgeting
First approaches to project, quality and safety management
Optimization of construction method & equipment
Construction engineering
Assistance to designers in reviewing all details that will facilitate construction
Development of temporary works and special equipment
Detailed methods of construction
Integrated shop drawings for the fabrication of the superstructure
Integration of post-tensioning with all associated drawings and details
Design of temporary works associated with precast yards and molds
Execution
As a main contractor, subcontractor or through innovative partnership agreements, our teams are able to execute construction project efficiently, in compliance with specifications, costs, deadlines and quality:
Mobilisation of an experienced project team
Supply and operation of the temporary works for the precast yard and the superstructure construction
Project and risk management and effective coordination with the various stakeholders
Monitoring and maintenance
Our teams can assist in monitoring the structure, advise on maintenance activities and help anticipate repair interventions and costs:
Define the most suitable monitoring scheme, assess its cost
Supply monitoring hardware and software
Provide training and handover
Inspect the structure and issue recommendations
Propose and implement repair or strengthening plans if required
Bridges
Contact us
You have a question about our solutions or you already have a project in mind? Please fill out the form below and our teams will get back to you shortly.