Preserve bridge infrastructure assets: the biggest challenge for owners and operators
When exposed to the environment, increasing traffic loads and hazards, even the most well-designed bridges need repair and protection in order to ensure that their intended design life can be achieved.
Applications: roadway bridges, railway bridges, reinforced concrete bridges, prestressed concrete bridges, steel bridges, girder bridges, stay cable bridges, arch bridges, truss bridges, etc.
Ageing of materials (concrete, steel, wood, masonry)
Concrete cracking or spalling due to alkaline reaction
Concrete carbonation
Chloride penetration in the concrete cover
Chemical aggressions (polluted air, acid rain)
Freeze/thaw cycles
Change of use
Increase of live loads
New required clearance
Regulatory change
Material fatigue due to wheel loads
Excessive creep
Differential thermal expansion
Excessive shrinkage and differential shrinkage
Support settlement
Missing or defective expansion joints
Design or construction defect
Excessive loading
Ground movements, earthquakes
Vibrations
Fire
Flooding
War damages
Bridges repair and strengthening
An end-to-end
service
Assistance with structural analysis and solution design
The diversity of our skills and solutions allows us to listen to, and understand, our clients and then use our knowledge to propose solutions best suited to their particular situation. We are therefore keen to include site inspection and testing, conceptual design and materials selection within our remit.
Completion of the repair or strengthening works on site
Apart from support from experts in traffic management, all the work is carried out by our own staff.
We offer a guaranteed result – the right solution in the right place; and a durable repair assured due to our full control of the application. Our solutions are validated on numerous sites and use products which are well understood due to our technical appreciation and site know-how.
Inspection and maintenance
We can help you define and implement the most suitable maintenance and protection strategy for all components of your structure, by providing inspection, structural assessment and health monitoring services.
We also offer preventive maintenance of structural components, such as bearings, joints, cable stays and prestressing tendons which are highly loaded and exposed structural components.
Our repair solutions and technologies for bridges
Bridge repair is a priority for us, and we are investing heavily in continually improving our knowledge and skills. Repair and replacement of post-tensioning tendons, cable stays, bridge bearings and expansion joints are of course key services; we also provide a wide range of services to assess, protect, repair and strengthen your structure.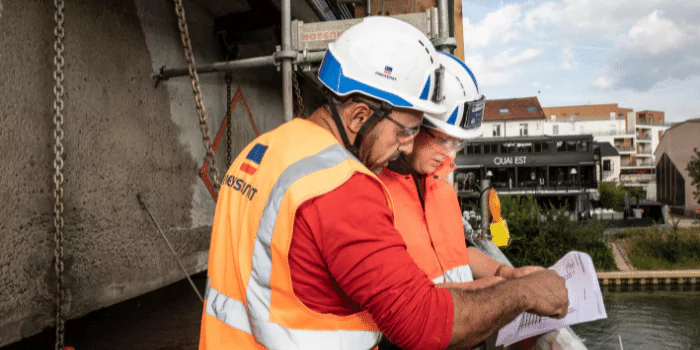 Inspection services: field inspection campaigns including access solutions, inspection of structural fittings, photographic survey including photogrammetry, non-destructive testing using imaging technologies and electro-chemical corrosion measurements, invasive inspections using endoscopy and material sampling, etc
Assessment studies: review of maintenance records, condition assessment, structural assessments
Instrumentation and monitoring to measure the behaviour of the structure over time, including procurement, integration, data collection, analysis, recommendations.
Hydro-demolition
Patch repair
Concrete re-profiling
Grout injection of concrete voids, honeycombs and joints
Injection of cracks to reinstate monolithism
Filling of cracks to restore waterproofing
Concrete anti-carbonation coatings
Protective coatings and waterproofing linings
Cathodic protection with galvanic anodes
Cathodic protection with impressed current
Electro-chemical treatment of concrete
Surface treatments
Additional prestressing
Dry shocrete
Carbon fiber fabrics and rods
Ultra-High Performance Fiber-Reinforced concrete
UHPC blisters
Metal and wood reinforcements
Underpinning with micro-piles
Load transfer using flat jacks
Repair and replacement of post-tensioning cables
Repair and replacement of stay cables
Replacement of bearings
Replacement of expansion joints
Maintenance of corniches
Find out more in our case studies
Our range of solutions for bridge maintenance
Contact us
You have a question about our solutions or you already have a project in mind? Please fill out the form below and our teams will get back to you shortly.