The forces acting on bridges are multiple and of various origins: structure's weight, shrinkage and creep, wind loads, temperature changes, traffic loads, horizontal loads such as accelerating, braking or skidding, impact forces due to collisions, support sagging, seismic forces, etc.
Freyssinet bearings are designed to ensure that loads are transferred between the superstructure and the substructure and that they enable movement and rotation of the superstructure.
Applications

Bridges
Buildings
Stadiums
Water infrastructure
Energy infrastructure
A wide range of bearings
Freyssinet has developed a wide range of TETRON® bearings based on five designs:
Elastomeric bearings
Pot bearings
Spherical bearings
Guide and restraint bearings
Linear rocker bearings
Each design is available in three operating modes allowing for different translational and rotational movements to suit the function of each structure:
Fixed
Guided-sliding
Free-sliding
All our bearings are CE Marked. They are custom made and can be designed and manufactured in accordance with various standards, the most common being EN1337 (Europe), BS 5400 (UK), AASHTO LRFD 2012 (US) and AS 5100 (Australia).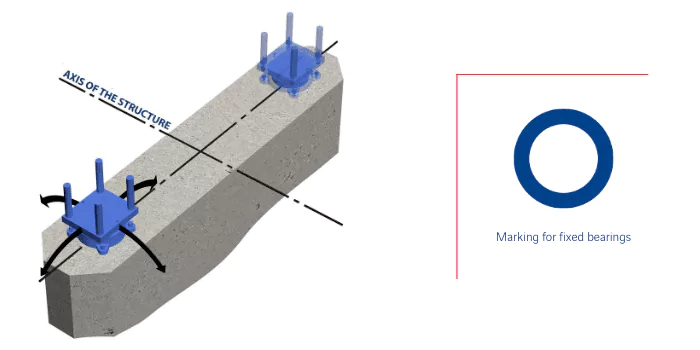 Transfer of vertical loads
Transfer of horizontal forces both in longitudinal and transversal direction
Sliding movements restrained
Rotations enabled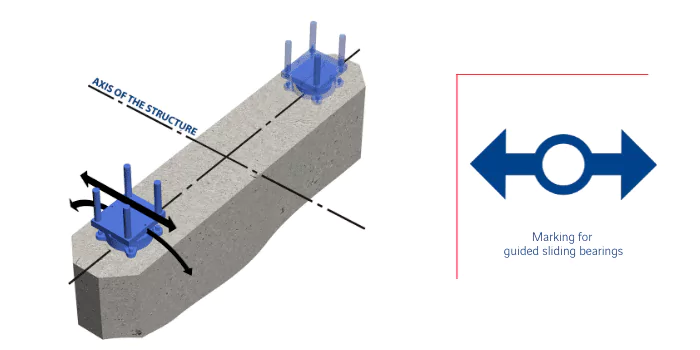 Transfer of vertical loads
Sliding movements in one horizontal direction
Transfer of horizontal forces in the other horizontal direction
Rotations enabled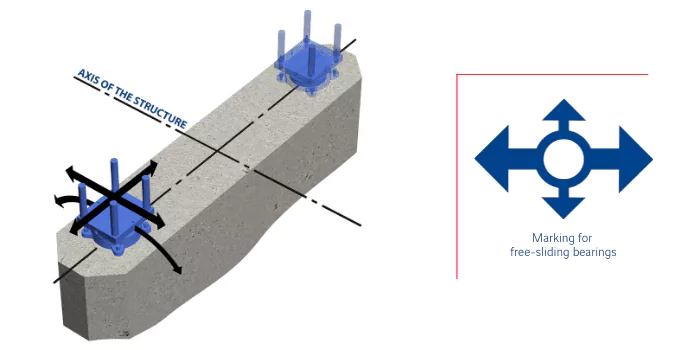 Transfer of vertical loads
Movements in both horizontal directions
No transfer of external horizontal forces
Rotations enabled
Select the right bearing type for your project
Custom-designed bearings
Freyssinet also provides a variety of bespoke devices designed, manufactured and tested to custom specifications, such as -but not limited to:
Various types of uplift bearings, including double-cap spherical bearings with a mechanism to support uplift loads in service
Permanent "launch-over" bearings for erecting bridges using the incremental launching method
Sliding pads for all types of sliding, launching or skidding operations, with improved sliding materials
Jackable bearings, with vertical load adjustment during construction (single jacking) or during service (multiple jacking)
Bearings with integrated seismic devices -viscous dampers or shock transmission units
Cylindrical bearings and other moment-restraining bearings
Bearings with required horizontal stiffness
Bearings for acoustic isolation.
These devices are designed in close cooperation by our structural engineers and bearing specialists.
Levante stadium in Spain: double-cap uplift spherical bearings for possible uplift in service, with rotational preset and movement stoppers.
Paris Metro line 2, France: jackable bearings for vertical adjustment
Nowra Bridge, Australia : stainless steel spherical bearings for incremental launching
Full service
From design to
maintenance
Assessment and design services
A dedicated technical department (Atlante) assists you in the early stages of the project, to select the type of bearing best suited to the project and to size it, according to the needs of the structure and the budget available. This team, based in Italy, is made up of engineers and draftmen who are experts in structural and mechanical engineering, and use specific software providing 3D drawings.
Guarantee of the product performance and quality
Our TETRON® bearings are manufactured in-house. We integrate all the necessary skills for bearing design, prototype testing, manufacturing, quality control and shipping. Our test centre, known as ISOLAB and located near the Bearing Technical Department in Italy, has the status of an official laboratory and has all the necessary equipment to carry out static and dynamic tests according to international standards.
Technical support or full installation
Depending on your needs, we can provide technical assistance or proceed to the full installation of the bearings through our specialist teams around the world.
Inspection and maintenance
A maintenance guide is provided for each delivery. It specifies the frequency of bearing inspection according to the characteristics of the structure and its environment, in order to optimize its service life. Freyssinet specialists are available to carry out these inspections.
Maintenance of bearings
Contact us
You have a question about our solutions or you already have a project in mind? Please fill out the form below and our teams will get back to you shortly.