My Thuan 2, the new cable-stayed bridge over the Mekong river
This new contract is the result of several successful collaborations
on iconic cable-stayed bridges
in the Mekong Delta
, crossing
Asia's fourth largest river
.
T
h
is new one is
called
My
Thuan
2
. It
will
cross
the Tien
section
350 meters upstream from the current My
Thuan
bridge
, first cable-stayed bridge of the region inaugurated in 2000.
For this 350 main span bridge, Freyssinet Vietnam has been awarded the supply and installation of the complete stay cable system: including anchorage, wax injection, HDPE, IRD and IHD dampers, formwork tubes and guide tubes. 
Now that the two piles are built and that the main contractor has finished preparing the form traveler, our teams can start the installation of the cables. Do you know what is the typical construction cycle for this type of bridge?  
Launch the form traveller 

First tension of the cable




Pouring of the typical segment (360 tons)

Post-tensioning of the deck

Second tensioning of the cable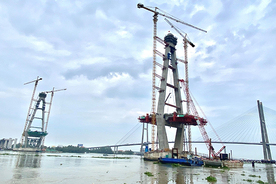 By keeping the same dynamic rhythm, the bridge should be completed by the end of the year.   
#Improvingbydoing To reduce our carbon footprint, we provided eco-design solutions in this project that have saved approximately 8.5 tons of steel material, in comparison with our system proposed on Cao Lanh bridge, built with the same configuration.