Nydalsbrua Bridge in Norway: a challenging project for our engineers
Because
every site we work on is unique, we have developped an extensive range of systems that meet the specificities of our client's challenging designs.
Freyssinet Poland and Freyssinet Major Projects
with the valuable support of Freyssinet's Technical Department
have implemented them on the construction of a 183 meter long cable-stayed bridge over the Nidelva River in Trondheim. 
 Our offering of complete post-tensioning and stay cable systems had to be compatible with three main design features:  
The

bridge design included an anchoring chamber for the back span stay cables, as its location in the

vicinty

of a hill was not compatible with a back span deck.  

 




The 8 back span stay cables,

Freyssinet's

H2000 system – Unit 91, are anchored in the upper part of the chamber. The loads are then

transfered

to the ground using 16 units of 31C15 C-range prestressed tendons

.

The upper passive anchorages of the stay cables are installed in Freyssilink saddles specially designed by Freyssinet engineers for this bridge. The Freyssilink system is able to transfer differential forces to the pylon structure while allowing optimization of pylon section. This benefits to the reduction of the carbon footprint of the project by saving construction materials.

As the bridge is located in a harsh climatic conditions site with a thermost

at mostly below 0 degrees and frequent snowfalls during winter, the stay cables are equipped with a passive de-icing

system that mitigates the risk of ice shedding from stay cable

.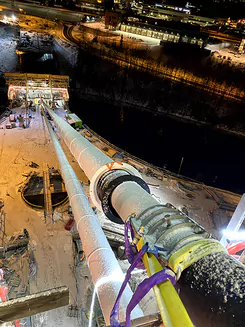 Installation of the stay cables is scheduled to finish in June 2023 and the bridge should be operational before the end of 2023.